I bet you have tried several ways of creating a galaxy sky background. I did too. With water colors, Ken Oliver Color Bursts and now I also tried it with Paper Artsy Infusions. And what to do with it? Yes! Using it for the new Visible Image Zodiac stamp sets. For today's card, I used the Gemini one. Why? Well, I'm a Gemini 😀
To show you how easy it is to create a galaxy background with the Paper Artsy Infusions, here is a quick tutorial. I picked a mix of blue, purple and pink colors. The exact ones are listed below.
I sprinkled a mix of purple and pink onto a piece of card stock. To reduce the mess, I put the paper into a tupperware box. Then I spritzed water on top using my awesome super fine mister.

While the paper was still wet, I sprinkled the other colors on top till I had the saturation that I wanted. Then I heat set it. There was still so much gorgeous color left, so I decided to dip the paper into the left over color inside the box. I'm so glad that I did that, because it added the perfect texture.

I needed a few stars, so I sprinkled some white paint all over the paper.

Next up, I wanted to stamp the Gemini star sign. I wanted to make sure that it sparkles and shines in all its gorgeousness. The Emerald Creek Gold Sparkle embossing powder was the perfect pick for my sparkling focal point.

Then I stamped some of the sayings to the inside of the card.

At the end I adhered the galaxy background onto a black piece of card stock and both onto a white card base.
I hope you enjoyed my super easy galaxy background with the Visible Image Zodiac stamp for the Gemini sign. 🙂
Supplies Used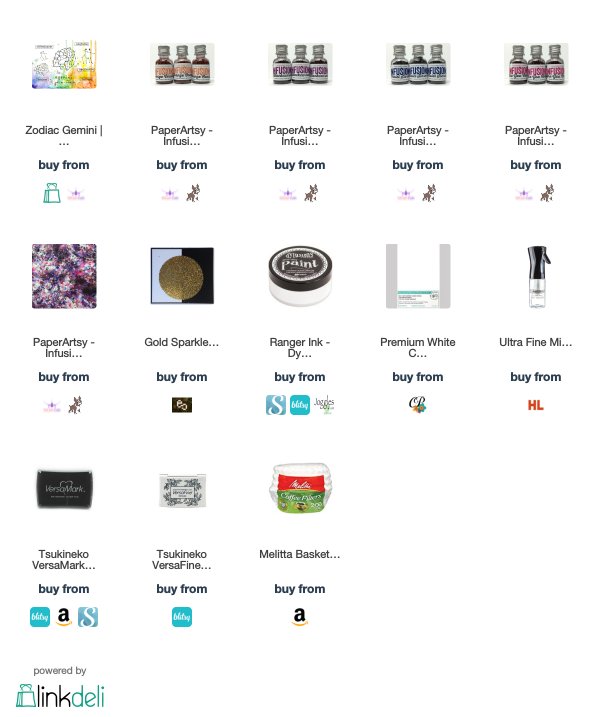 Close Ups