I'm back with a new art journal page using stamps and stencils from Visible Image. You know what I like about them? All of these sets can be used interchangeably – you can combine them in so many ways. Talk about versatility! For today's page I'm using a mix of old and new stencils and one of my favorite sentiment stamps.
It all started with the background. Sometimes I have difficulties starting with a page. What colors to choose, what technique to use, how to apply the paint? For those moments, I have the perfect way of overcoming the "fear of a blank page" –> brayering some paint on it. I randomly pick one light paint and start to apply just a little with a brayer. Then I pick a color in a similar shade and do the same; with as many colors as I feel look good. For this page, I used three colors and brayered them randomly all over the page. The only thing I take care about, is that I only go into two directions, sideways and up and down. Not diagonally.

After I was done, I added the first layer of texture to the page. For that, I used the same colors as before and blended them through different stencils. I kept the areas very light.

The next layer is more visible, but still light. Here I stamped the Fibonacci stamp with a grey ink all over the page.

On to my focal image, which is the Take My Hand stencil. I really wanted this to pop, so I embossed it. First, I tried to press the Versamark ink through the stencil. But because the lines are too fine the ink didn't go through, so I ended up blending it with a little make-up sponge. Then I heat embossed it with Emerald Creek Salted Raven embossing powder.

To finish up the page, I added my sentiment – the word "creativity" also heat embossed", a few birds and doodles.

I hope you enjoyed my new art journal page and you feel encouraged to get creative as well. Get those stencils and stamps out and start layering 🙂
Supplies Used
Some of my links are affiliate links which means I earn a small commission, if you use my links to shop. No worries though, you won't pay anything extra. Thanks for your support 🙂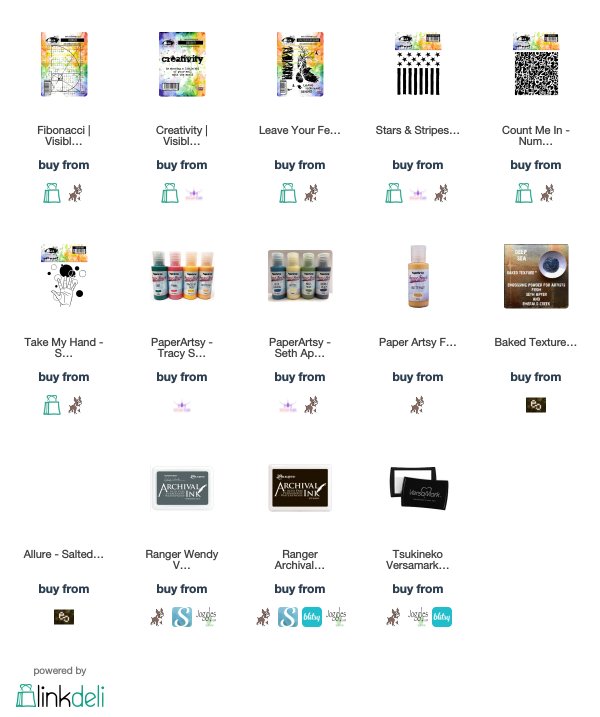 Close Ups