Wowza, this is one of those months again 😛
One amazing announcement after another… phew. It never gets boring. I'm super excited to share my first project for the Swedish House Crafts guest designer team with you. Swedish House Crafts is an online store based in the UK and they carry some very unique stamps and papers! I'm a fan of Scandinavian designs and they have so many of them. The paper? The stamps? Gorgeous!!! And if you're not lving in Europe, but in the US, shipping to the US is not too bad either.
But now on to my project. This is the stash that I'm working with. Do you see the Nyhavn paper? Awesome, I'm telling you 😉

I started with randomly spraying some inks onto my paper. I used blue colors for one part and orange colored sprays for the other sheet. Then I die cut a heart from the orange paper and several flowers from the blue.

I covered my canvas in two coats of black Gesso and stamped the little paws and the dog silhouette on top using white pigment ink. It's just so cute 🙂

Then I tore some pieces of the Nyhavn paper and adhered them onto the canvas.

And then covered them with a light layer of white Gesso – I still wanted the pattern and colors to shine through.

Now I used the same orange sprays and sprayed it on top of the paper.

After everything was dry, I adhered the flowers, the heart and a few embellishments on top. To create a little more contrast, I added blue inks behind the heart.

But that was not enough, so I added some torn book pieces. That helped a lot and the heart is now more visible.

I'm so excited about how this piece turned out. It's so different and I love that. I'm always glad to try out new and different products 😛
Supplies Used
Thank you for shopping by using my links. These are affiliate links, which means that I earn a small commission at no extra cost for you. It goes directly back to you as it allows me to continue creating inspiring content 🙂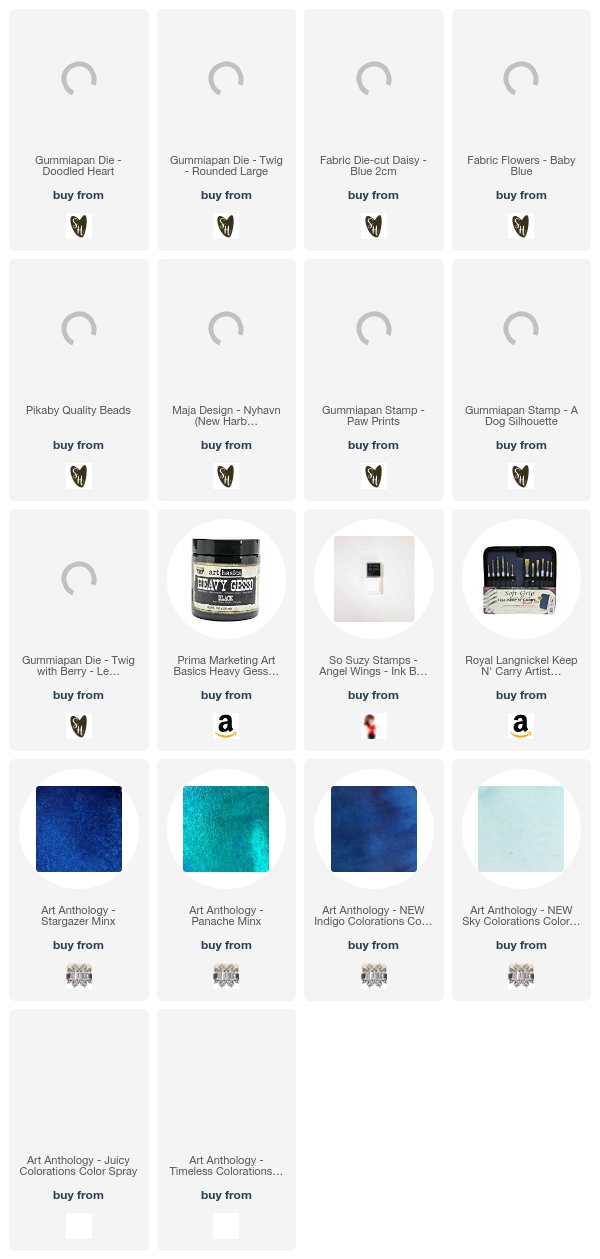 Here is the final project in all its glory.