One of the things that I really enjoyed throughout 2018 was my membership of StencilClub. This is a monthly subscription where you get three StencilGirl stencils – all exclusive for the club. One part of it is the membership of a secret Facebook group. Super supportive folks there and it's so much fun to see all the projects that everyone is creating with their monthly stencils. Another perk is the chance to be part of the StencilClub Voices. That means a few members get randomly selected to share their work using the monthly stencils. We get early access too 😉
I was chosen for January and February and can't wait to share with you what I've created using these stencils. You can see all the January projects on the StencilGirl blog here. But let's start with my January project 😉
I filled the last page of my favorite art journal just recently. Instead of deciding which new one to use, I grabbed a canvas for this project. I started by painting one of the new pastel Dylusions paint all over the canvas and then creating some interest using Distress Oxide. I just smooshed the ink onto my craft mat, spritzed some water on top and then dragged the canvas though the ink. I did that with several layers of each color till I had the effect that I liked.

Next up, I added more layers using the 6×6 stencil form the January collection. I blended the same Distress Oxide colors all over the canvas. This way the pattern is rather light.

My favorite stencil in this set is the 9×12 one. It has all sorts of keys on it and I used quite a few to add more patterns to the canvas. This time I used two Dylusions paints and blended them through the stencil. For some of the keys I layered both colors on top, just slightly moved, so it looks a little like one of these 3D prints.

I thought it needs a little more, so I added a few stamped patterns using Viva Las Vegas stamps and the same Distress Oxide colors.

Now to the placement of the lock. I wanted to keep it in the background, so I used the same color that I used for the background and blended the paint through the small stencil.

On to my focal point. I die cut a bird shape and created very similar layers. The main difference is that I used one of the red shades from my Distress Oxides to make it stand apart later on.

At the end I adhered the bird onto my canvas and added a lot of gold flakes around it. The final step was the sentiment "Smile, it is the key that fits the lock of everybody's heart". I thought it was quite fitting 😉
I hope you enjoyed my new canvas for the January project of StencilClub Voices. I definitely like the slightly different layout. P.S. Dylusions paint and Distress Oxide are not permanent, so make sure to seal your artwork with i.e. Krylon spray (that's what I use).
Supplies Used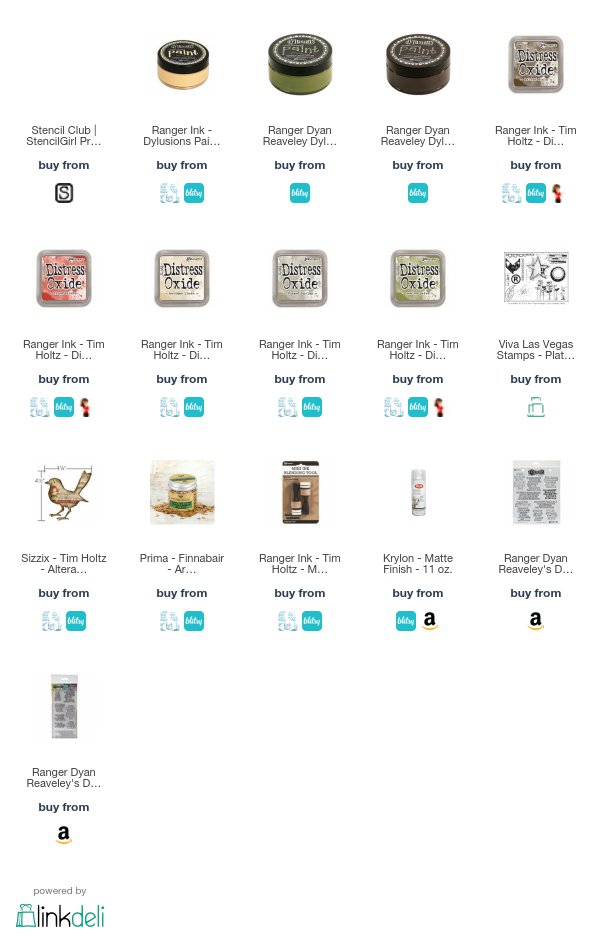 Close Ups