It's the last day of the Snarktoberfest 2017 blog hop. Have you joined yet? Make sure you do, for a chance of winning one of 6 awesomesauce prices!
But the festivities are not over yet. We continue to celebrate throughout October and you can join us. Use #Snarktoberfest2017 and #Snarktoberfest on Instagram and Facebook so we can find you and party with you. And maybe there will be a few more give aways throughout the month 😉
But now on to introducing Strawberry Jude Stamps. If you have been around for a while you know that I love this company. They have everything from cute to snarky and that's exactly why they are joining us for Snarktoberfest 2017 😛 I used the Awesome Memes set to create a bookmark that is a little wonky – on purpose though, lol
I started by stamping this sassy lady onto a piece of watercolor card stock in the size 3×6″. I cut it down afterwards to 2×6″, but parts of her are staying outside of this range.

Then I colored her with my Zig markers. Thankfully, the folds are already painted in, so I just had to add color to the stamped folds and then blend it out with my watercolor brush. Easy, peasy.

I did the same for the top part of the dress and her hair. The skin had to be very light though. I wanted her to look like a porcelain doll. That's why I added just a little bit of the skin tone color to her arms, legs and face and blended it out really well.

I always like to have a bow or some sort of ribbon in my bookmarks, so I punched a hole to the top and added two types of ribbon in the same blue as her dress. I love that classy lady from Strawberry Jude Stamps. She looks so sophisticated and you already know that only mean things come out of her mouth 😀
Thanks for stopping by and joining us for the kick-off of Snarktoberfest. I hope you'll follow along throughout the rest of the month, don't forget to share your snarky, funny, sarcastic and punny projects with us!!! 😀
Supplies Used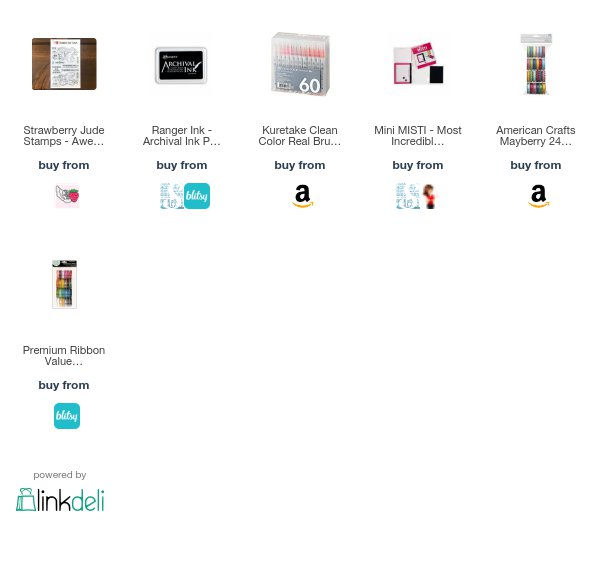 Close Ups