Last year was the first time I celebrated Snarktoberfest with all of you. Throughout 2017 I realized that there are so many amazing and talented people out there with an incredible sense of humor (black, just like mine), so I decided to ask a few of them if they would be interested in joining me for this years' celebration – and they all said yes… Can you believe that??? I was blown away (and still am…)! After literally everyone I asked said yes, I realized that I have to come up with an even bigger party as I originally planned 😛
So here we are with a long list of snarky sponsors and blog hop participants who are as excited as I am about Snarktoberfest 2017 😀
Here is what you can win:
What do you have to do for a chance of winning one of these amazing prices? Just hop along with us and leave a comment on all blogs by October 5th 9pm PT/ 12am ET. We will pick a winner on October 6th!!!
If you ever get lost, here is the entire Snarktoberfest 2017 blog hop list:
Josefine Fouarge –> that's me
Your next stop is Amber Trubiak
Sisterhood of Snarky Stampers –> This is a challenge blog for snarky challenges, so check out what the Sisterhood made for Snarktoberfest 2017 and what amazing challenges they have!
Don't forget to share your love for snarky projects with everyone and celebrate Snarktoberfest throughout October using hashtag #Snarktoberfest2017 or #Snarktoberfest. Get those funny, snarky, hilarious and sarcastic stamps out and giggle till the walls come down 😛
Snarky Podcast
It doesn't end here – I got interviewed by Suzanne Moore for her podcast. It's all about Snarktoberfest, what I was thinking, how often I got crowned Queen of Snark at the Sisterhood of Snarky Stampers and so much more. She had to start like three time for the intro, because we couldn't stop laughing 😛

And Finally – My First Project
Phew! Finally we talked about all the important party information and now we can start! My first project is using So Suzy Stamps, some of my favorite snarky stamps. If you have listened to the podcast already, you have heard me talking about these in particular 😉
I think we have enough text for today, so let me share my project as a video. If you want to skip my talking part, start with the project directly at minute 4:15. But be warned, there is a test at the end with questions about something that I talk about in the beginning (just kidding 😉 ).

What do you think? A worthy first card for a month full of fun?
Don't forget to check out the other cards along the hop! Your next stop is Amber.
Supplies Used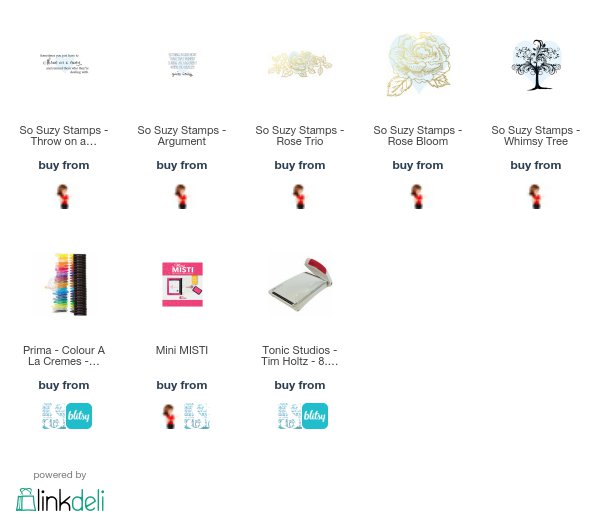 Close Ups