Yesterday's prompt over at Nathalie Kalbach's Artful Adventure challenge was shiny and instead of finding anything shiny at home, I created a shiny art journal page using Distress Oxide for the background and Emerald Creek embossing powder for the shiny hearts.
I started with adhering pieces of an old German book onto my page. Then I added a layer of clear gesso.

Next I used my Clarity stencil brushes to blend 4 of the Distress Oxide colors together…

…and added some water splashes to add more interest to the background.

Then I added the bigger umbrella girl silhouette by blending black acrylic paint through the stencil. I prefer make up wedges for the actual blending.

Now I carefully used the anti static pouch to rub all over the page. Because the Distress Oxide are not permanent, my pouch was slightly orange afterwards, but rubbing it over a scrap piece of paper removed the access easily. Now I stamped the Concord & 9th heart in several areas and heat embossed them with the Hammered Metal embossing powder from Emerald Creek. This is thick and chunky embossing powder that leaves and uneven and shiny finish which I love. It makes it look like real metal 😀

At the end I added a few doodles here and there and decided to stop before I doddled all over the place 😛
Supplies Used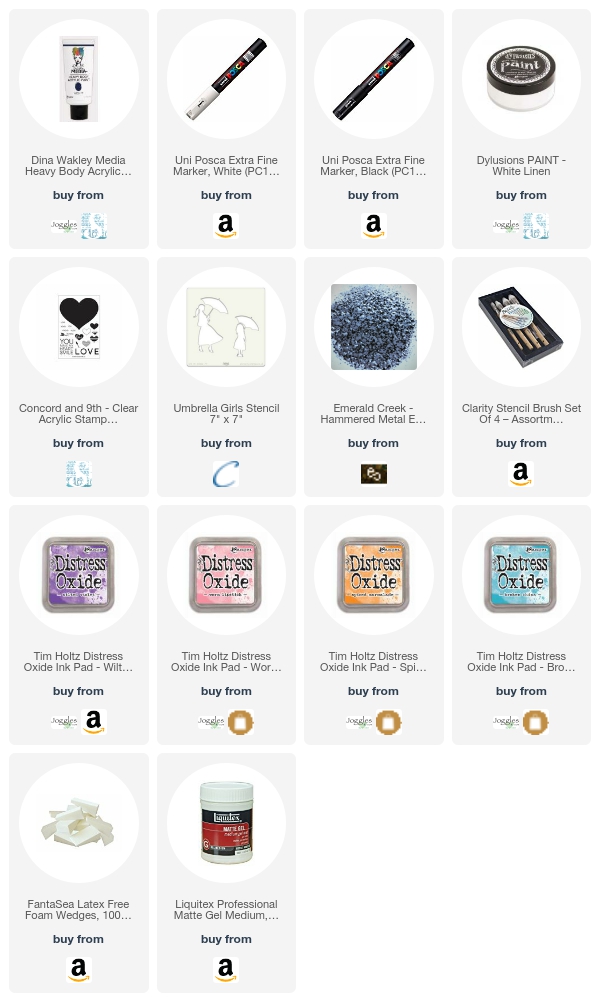 Close Ups