Yay for a new art journal page. I recently ordered a couple of StencilGirl stencils and had to try a few of them. For this art journal page I used two of Nathalie Kalbach's stencil. (Supplies are listed at the bottom of the article 😉 )
I started with a mono printed page. I used a red and green Paper Artsy paint, spread them out on my Gel Press and cut it a little smaller, so it fits into my art journal.

Then I used the elephant mask to cover an area and added paint through a second stencil.

Next I covered the other area with the stencil part of the elephant and added paint through the same second stencil. This way the pattern continues, but in two different colors.

Now I covered the elephant again with the mask and added shadow around it. I smeared the black Faber Castell on top of the paper and blended it with my finger.

Then I switched the parts of the stencil again and blended white Faber Castell to the inside of the elephant.

I wanted to add a little more interest to the inside of the elephant, so I mixed the same colors from the mono printed page with some white and stenciled a few flowers to the inside of the elephant.

To finish it up, I splattered two different light shades of color all over the art journal page, added a frame with the black Faber Castell Gelato and adhered it into my art journal page.

I hope you enjoyed my elephant art journal page 🙂
It was definitely interesting to work with a stencil and mask of the same shape.
Supplies Used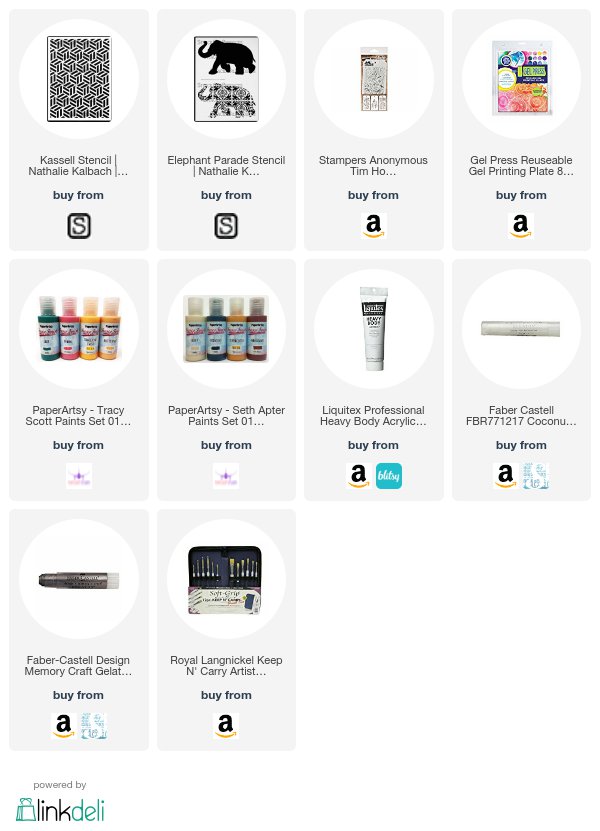 Close Ups