Hello everyone, I'm super excited to share this post with you! Originally, I wanted to tell you all about IntheMkng, a festival at the end of September for everything crafty, but then I got distracted and started playing with Eileen Hull's die, so that's what I'm going to show you instead 😉
But how did I get here? You might have seen that I'm currently signed up as a VIP AFCI Creator and that I'm planning to go the InTheMkng event in September. Eileen Hull is one of the designers that will be there and because I just recently discovered her journal dies, I'm super excited to stop by her booth. If you don't know what all of this is about, here is the quick summary: IntheMkng is a festival for creativity. Music meets crafting and all that in Bethel Woods, in a beautiful area in New York on September 29 & 30. You can find the list of vendors on their website here and in case you are interested in going, here is a promo code for $2 off your ticket (doesn't work for family tickets and workshops): EXMKNG24
I'll also have a Facebook live on September 2nd where I will answer any question you might have about the festival.
But now on to my project. As I said, Eileen Hull will be at IntheMkng and that's why I felt inspired to dig out her Journal die and create a journal cover (just FYI, this post is not sponsored by her or Sizzix – I just love that die 😉 ). First, I cut some pieces from an envelope to the right size and ran it through my die cut machine.

I gessoed front and back and then decorated the front with some mono prints. I used the 5×7 Gel Press with PaperArtsy paints to create an uneven look.

After adding a few layers in Lemon Meringue, Peach Nectar, Banana and Prawn I stopped. Now it looked grungy enough.

To create the focal point, I used a StencilClub stencil from Seth Apter (who will also be at IntheMkng) and outlined the face on both sides of the cover.

Because I got a little paint underneath the stencil, I outlined the faces with my LePen Drawing Pen. Much smoother now 😉

As a next step, I added a few more layers to the insides of the heads. The rest of the face silhouette stencil is perfect for filling in those areas.

I added a shadow behind the face to make it a little more dimensional.

And added a final layer to the faces.

There was still some Lemon Meringue paint left, so I added water to make it thinner and splattered it all over the covers. I also adhered a few 7 Dots Studio word stickers.

Thankfully, that die came with instructions on how to bind the book after you adhere the two pieces together. A little decoration was needed as well.

As this is a cover, I wanted it to be as permanent as possible, so I covered the outside with Earl Lube Pour to seal it.

I hope you liked my quick journal cover. Don't forget to join me on September 2nd for my Facebook Live (I'm nervous, lol).
Supplies Used
Some of my links are affiliate links which means I earn a small commission, if you use my links to shop. No worries though, you won't pay anything extra. Thanks for your support 🙂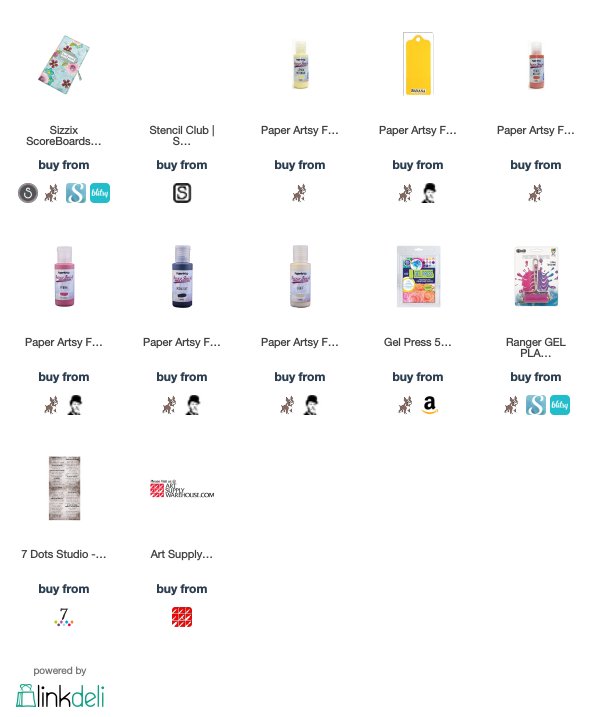 Close Ups