Hello and welcome to a new post for Visible Image. I was in the mood for something bright, something very bright 😉
Because I haven't used my Distress Oxide in a while, I decided to create a few bright ATCs using them.
I started with a 3 1/2 x 9 inch piece of water color paper and smeared the Oxides directly onto the paper. Then I spritzed water on top, let the inks move and mix and heat set it. Next up, I used the smooshing technique where I put the ink directly onto my craft mat, spritzed some water on top of that and then dragged the paper through the wet ink.

Now I cut up the ATCs to the size 3 1/2 x 2 1/2 inch and started decorating them. The first one with Golden mica flakes through the Stars & Stripes stencil. This had to dry the longest, so I set it aside and continued with the other ATCs.

The second ATC also needed some stencilded background. For this one, I used Cosmic Skies with White Linen Dylusions spray.

I wanted to do something slightly different for the third ATC, so I stamped a few patterns with the Mesh-ellaneous stamp set.

For the focal points I stamped two of the flowers from the Imperfection is Beauty set and my favorite paper boat from Destination Unknown. I just fuzzy cut them and let them white. I thought that this makes it pop even more, rather than any color I could have colored it in. The only "coloring" I did was sprinkling some London Blue and Bubblegum Pink onto one of the flowers and the coordinating ATC.

At the end I adhered everything together and finished it off with a little blending around the borders. Now these are some bright ATCs 🙂
Have you ever created or exchanged some? I like the small size, that you can still do so much with it, but don't need to find some empty wall space to hang it up afterwards 😉
Supplies Used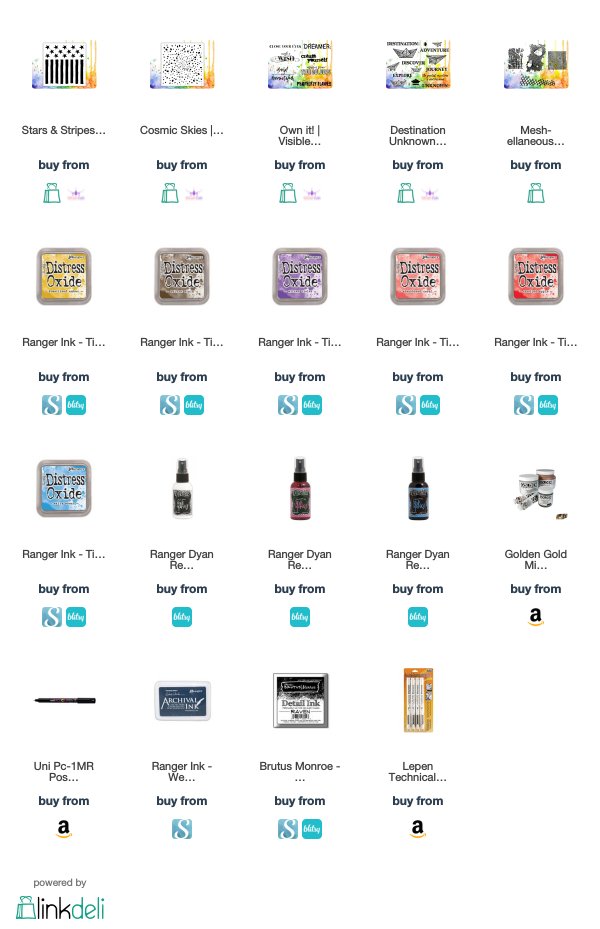 Close Ups